Excitement is in the air as Commercial Interiors UK (CIUK) proudly unveils the return of its highly anticipated Dublin OPEN exhibition on October 24th, 2023. Marking its sixth consecutive year, this exceptional event promises to set the stage for a dynamic convergence of design innovation and industry expertise.
To register your free ticket to this event, please click here
For further information or Dublin OPEN updates, visit: ciukopen.com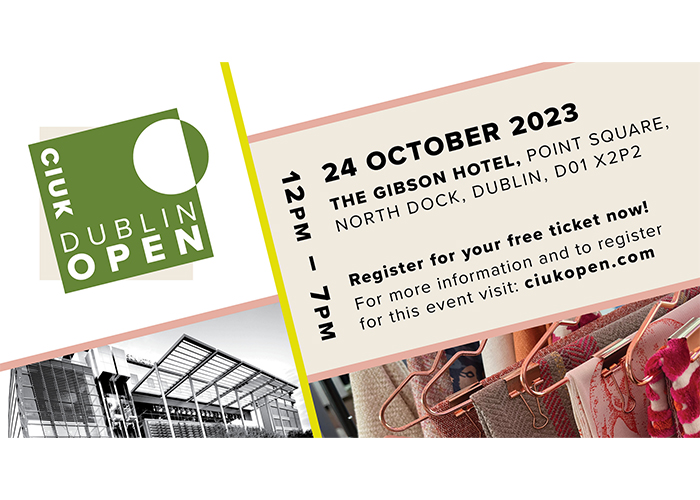 The Dublin OPEN Exhibition: A Glimpse into Excellence
The Dublin OPEN exhibition is more than just a gathering; it's a celebration of the finest in commercial interiors. On October 24th, 2023, The Gibson Hotel in Dublin will transform into a hub of design inspiration, welcoming interior designers, buyers, and specifiers from across the UK and Ireland.
This pop-up showcase is set to feature over 30 leading manufacturers and suppliers, each unveiling their high-end products that epitomize the core values of value, excellence, and innovation. Attendees will discover an array of products meticulously crafted for Hospitality, Healthcare, Education, and Office interiors, all conveniently brought together under one roof.
However, the Dublin OPEN is not just about products; it's an experience designed to forge connections, foster relationships, and ignite creativity. From a buffet lunch to an indulgent afternoon tea and seamless networking opportunities with a drinks and canape reception from 5-7pm, this event promises to be a captivating blend of inspiration and interaction.
The Design Insider Talks Programme: A Journey into Commercial Design Excellence
But that's not all! For the 2023 edition, CIUK has something special in store – the launch of the Design Insider Talks Programme. This engaging addition will be hosted by Alys Bryan, Editor of Design Insider, and promises to be a treasure trove of design insights.
12:45 – 1:30 Living Design: Alys Bryan in conversation with Niamh Peare
In this fascinating discussion, Alys Bryan will engage with Niamh Peare, Senior Associate at Perkins&Will, to delve into the multifaceted ways in which this global design firm integrates their 'Living Design' approach into all aspects of their work. Discover how this commitment positions them as pioneers within the global commercial sector, leading the way in people-centric and sustainable design practices.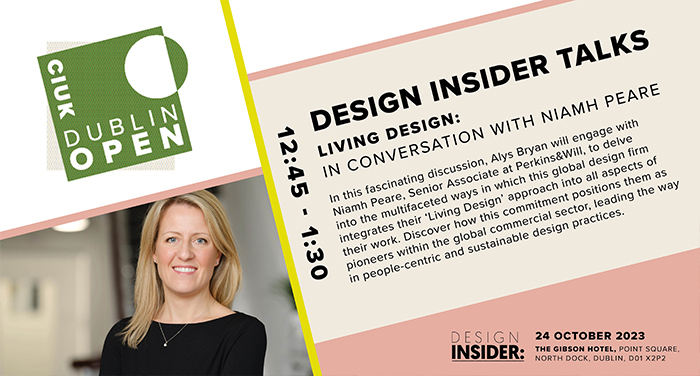 2.15-3:00 Designing Immersive Experiences: Alys Bryan in conversation with Ronan Holohan
During her conversation with Ronan Holohan, Owner of Millimetre Design, Alys Bryan, Editor of Design Insider, aims to explore the studio's multidisciplinary approach, which covers interior architecture, interiors, branding, and product design. They will discuss Millimetre Design's expertise in creating joyful projects that prioritize guest & customer experiences. Alys will also inquire about the studio's diverse range of projects in hospitality, food and beverage, leisure, retail, and high-end residential settings, aiming to uncover how their design philosophy permeates through their spaces, consistently creating exceptional experiences.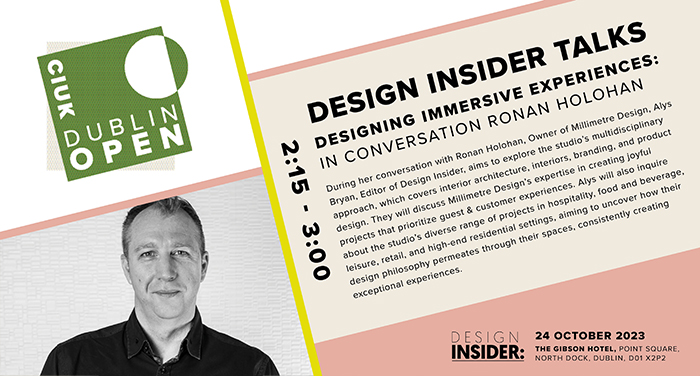 3.45-4.30 The Art of Design: An exploration of creativity by Katie O'Brien and Chelsey Lenaghan
Katie O'Brien and Chelsey Lenaghan, representing Ulster Carpets, will unveil the boundless creativity within flooring design for hospitality. Discover the design evolution of specific projects worldwide and the effective design that seamlessly fits its space. Witness the journey from hand-drawn sketches to modern computer design, all while embracing the marriage of traditional artistry and innovation.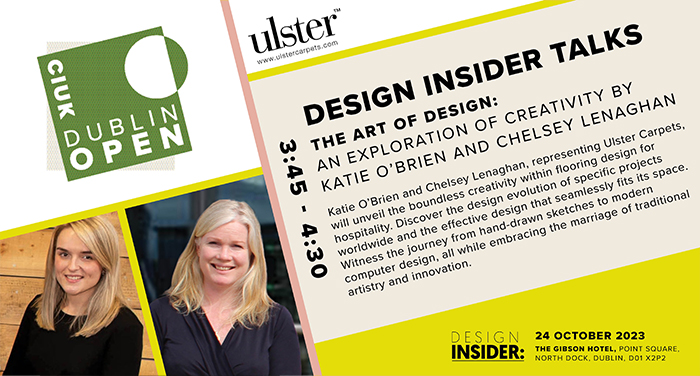 Join Us at Dublin OPEN 2023: Register Now!
The Dublin OPEN event, coupled with the inspiring Design Insider Talks Programme, promises an unforgettable day filled with design excellence and networking opportunities. Don't miss this chance to be part of the vibrant world of commercial interiors.
Register for your free ticket and unlock a world of design innovation. For further information and Dublin OPEN updates, visit the official website.
Mark your calendars for October 24th, 2023, and get ready to immerse yourself in the Dublin OPEN experience. Discover, network, and celebrate the very best in commercial interiors at this must-attend event!
Commercial Interiors UK extends heartfelt thanks to The Interiors Association and the UK Department for Business and Trade for their invaluable support.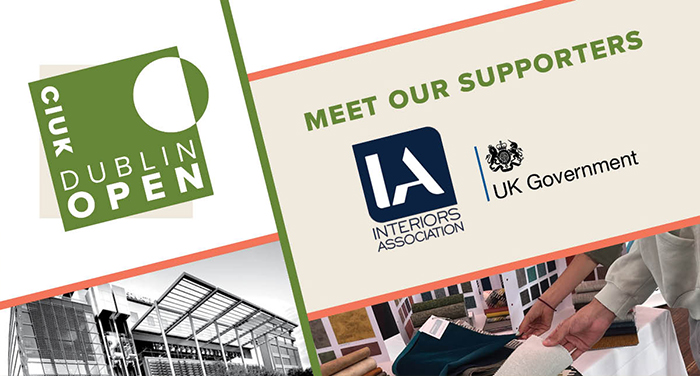 Our appreciation also goes to our Official Media Partner, Design Insider.