CIUK OPEN Berlin Review 2022
Commercial Interiors UK Members showcased their latest products and designs, impressing Berlin based designers and architects with some of the finest UK commercial interior brands.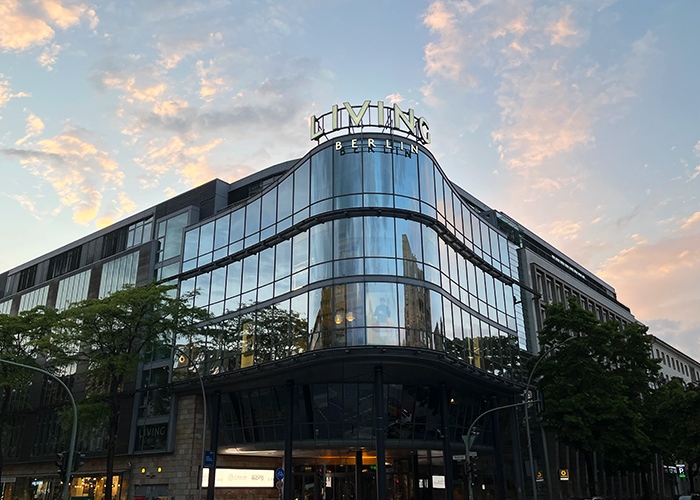 The Berlin OPEN was finally hosted at the stunning Alice Rooftop & Garden on Tuesday 17th May, after 2 years of postponement due to the pandemic. The open exhibition, in association with Berlin Design Week, came as a warm welcome to local designers, buyers and architects who were thrilled to come out and meet some of the most innovative players in the UK commercial interiors sector after restrictions were lifted.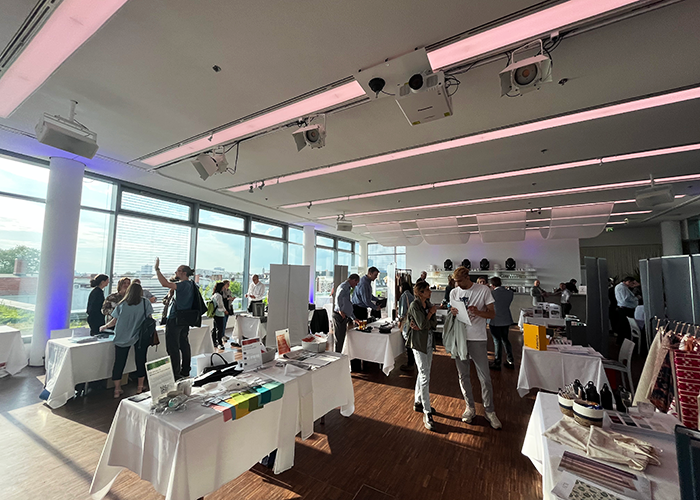 New products and designs were showcased, including an exclusive Berlin Design Week preview from Timorous Beasties of their new Art Rug Collection, due for launch later this month. Digitally printed, the rug collection boasts psychedelic colours, which looked beautiful in the natural light of the venue.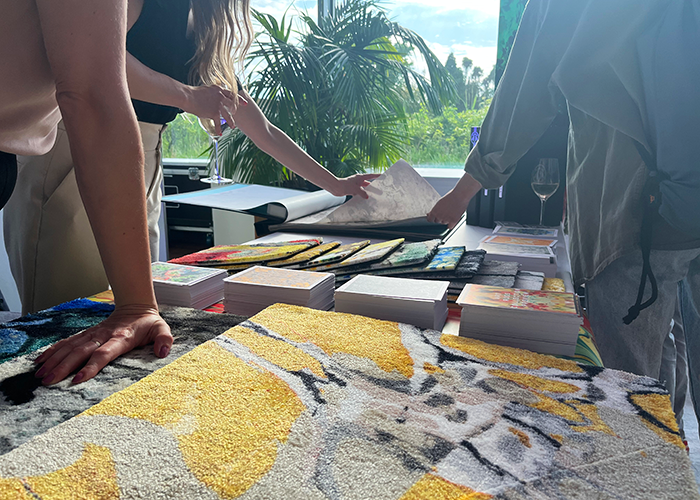 Other new products had a strong focus on nature and the outdoors, which perfectly suited the green surroundings of Charlottenburg. The ROMO Group showcased their elegant new fabric collection, Pluma, inspired by the wonders of nature and 19th century décor.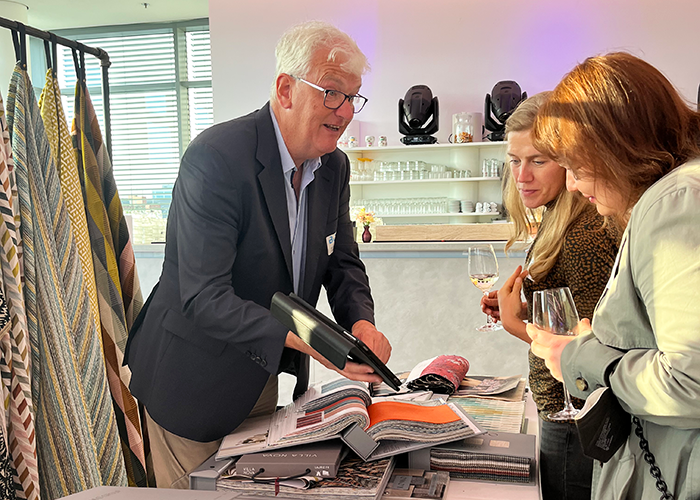 Ulster Carpets, and their Natura collection, always go down well with visitors who like to get tactile with the woodland inspired designs. Lincrusta's wallcoverings were also very popular, with their new Palm design demonstrated in 2 bold colourways.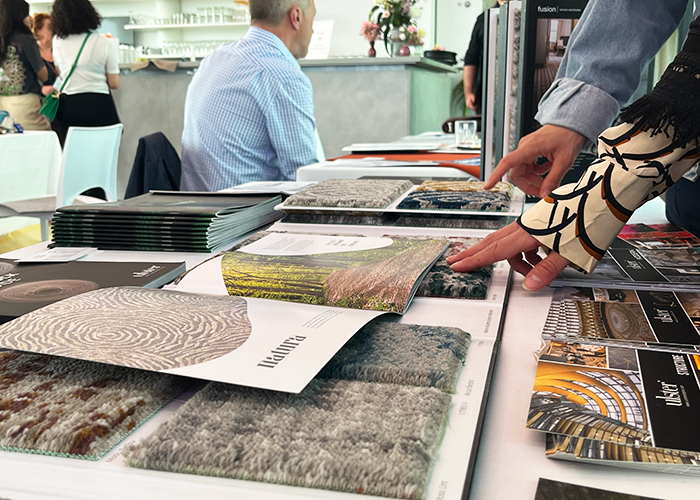 There was a clear emphasis on sustainability throughout the exhibition, with Sunbury Design exhibiting their new recycled collections for hospitality, Sorsdal FR Recycled Velvets, Cascade Recycled Digital Print and Zonda FR Recycled Weaves. Camira and Trevira focused on the issue of plastic waste, demonstrating how their fabrics are woven from plastic bottles.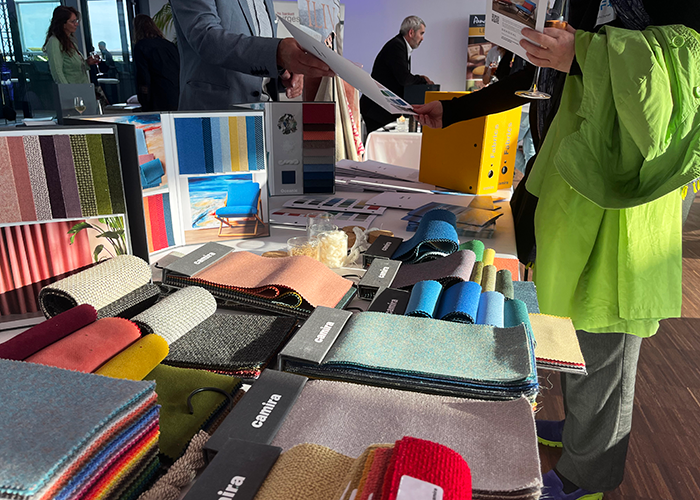 Elegant Clutter brought along a not so furry friend, which proved a hit with visitors as they petted the life-sized dog sculpture, carefully crafted using old newspapers.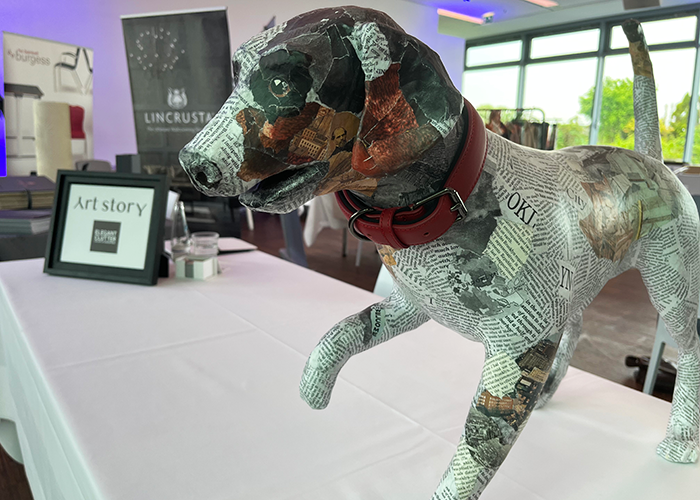 We were overjoyed to welcome the bdia – the Association of German Interior Designers – to launch their 22/23 Interiors Anniversary Handbook celebrating their formation 70 years ago. Containing detailed interior and architectural projects from across all sectors, completed with a full glossary of featured designers and architects, this handbook was a real treat to exhibitors and visitors alike and it was an honour to have it launched at our event.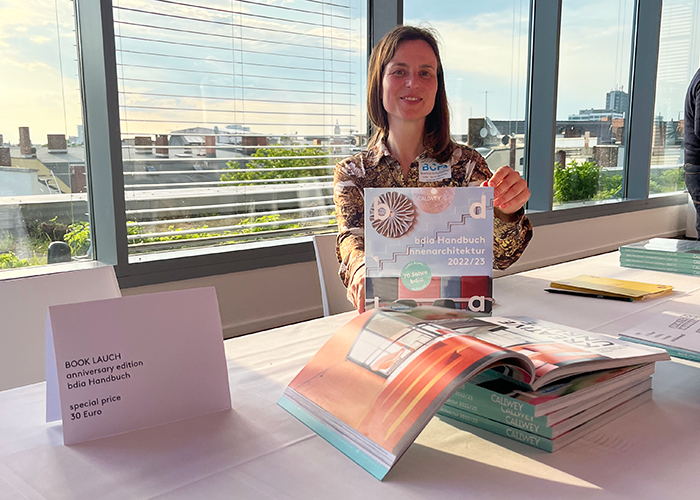 Throughout the day the atmosphere built, with designers and architects flocking as the working day ended. The venue was a true triumph, located on the rooftop of the LIVING Berlin shopping mall, home to many of Berlin's top interior design showrooms.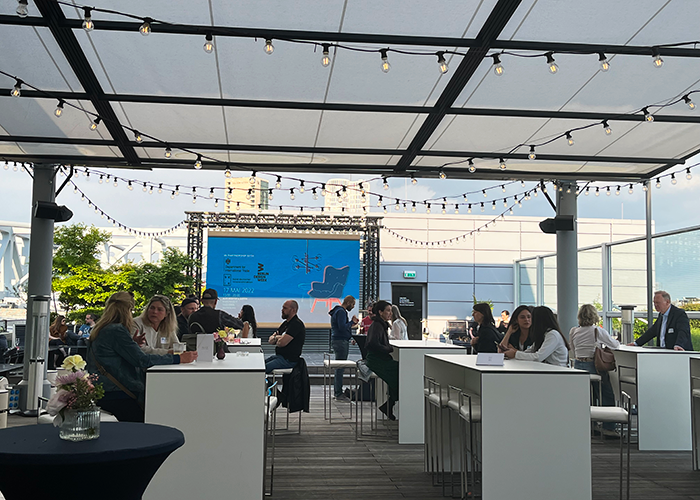 The beautiful rooftop garden provided the perfect backdrop for networking and drinks. It was clear that the Berlin OPEN came as a much-appreciated relief from covid restrictions and we were delighted to see visitors enjoying themselves, discovering quality products, re-engaging with members and making new connections.
As the glorious sun set over the rooftops of Berlin, the event drew to a close and ended on a buzz for both visitors and exhibitors. The first Berlin OPEN was a true success, and we would like to thank all of our exhibitors and partners for their support and hard work. A special thank you to all of those who attended, and we hope to see you again in 2024!